Reliability
We have a reputation to protect and we are fully committed to keeping the company's integrity in the marketplace.
Environmental Sustainability
Our products are non-toxic, environment-friendly and are specially manufactured to coexist with our ecosystem.
Durability
Our products have been made to withstand extreme weather changes, attrition,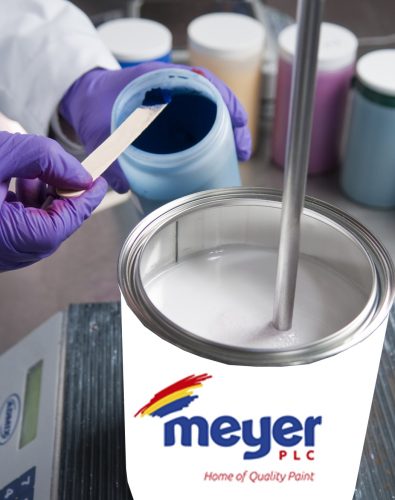 To employ all resources at our disposal in positioning our company as the leader within our chosen sphere of activity; effectively satisfying the total quality demand of our market, the aspiration of our employees and providing optimum return on our stakeholders' investments through focused profitable growth whilst we remain a responsible corporate citizen.
To create a steady, and reliable supply of standard paints that is held beyond reproach by customers both in Nigeria and beyond.

To become a household name for paint preference in Nigeria.

To develop a paint production system that serves Nigeria and West Africa delivering quality at premium prices.
About Meyer PLC
Experts In Quality Paint Making.
MEYER PLC is the Manufacturers and Marketer of high quality Paints, including Architectural Paints, Wood Paints, Auto refinishes, Industrial and Marine, Road lining Paints, Roof coatings, Tube coatings, HP coatings and Adhesives.
Why Choose Us
Our Expertise
Making Us
Paint Choice
In the ever changing paint industry and the increasing sophistication of the requests of our customers, Meyer PLC has carved out a name for itself as a producer of outstanding products that has consistently satisfied our customers' demands over the years.
Meyer PLC is a service centric organization that seeks first to make our clients happy while manufacturing environment friendly products that can stand the test of time.
We spare no expense in developing premium quality products and we ensure our customers get the worth of their money.
Happy Client Says About
Our Company
Some Feedback
The professionalism and skill Meyer uses in daily production and for special projects is first class
There isn't another manufacturer I would rather work with than Meyer. I hold all suppliers to the standards set by Meyer PLC. It's a pleasure working with them!
Great customer service. Working with any and all their employees has been thoroughly satisfying in all phases